Cuisine / Guest rooms / Hot spring

The seasonal tastes of Tango. The carefully selected fresh fruits of Tango's mountain and sea.
Shizuka Hanaogi warmly welcomes you with a host of inventive dishes prepared with unwavering diligence and ingenuity.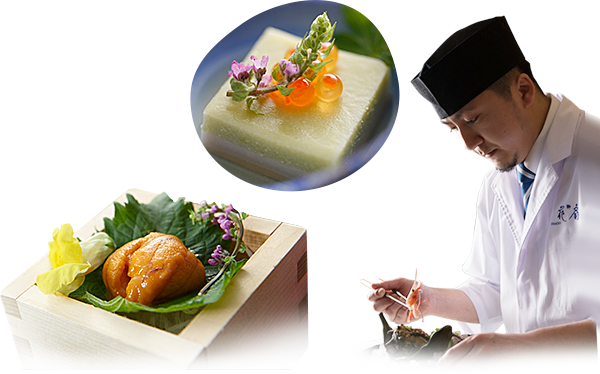 At Shizuka Hanaogi, we are very particular about the local rice, miso, soy sauce, and salt we use, along with all our other ingredients.
Tango boasts of being Japan's No. 1 in many of its rich ingredients, including crab, fruit, and cereal.
We do not serve meals simply crammed with luxury ingredients, nor do we compete on the number of courses; but rather, we place the emphasis on creating dishes which can only be relished in this particular place during a particular season.
Tango is famous for the Tango Koshihikari rice that glitters across the land, the edible jewels like the Kotobiki Melons, the quality beef of Tajima, and of course the fruits of the sea nurtured by the roughness of the Japan Sea.
We want our guests to enjoy these ingredients that are unique to this blessed environment in dishes which draw out their flavors in full, created through the chef's commitment and culinary skills.

There are five types of rooms. At Shizuka Hanaogi, we have the chic tranquil rooms of the main building that incorporate genuine Japanese culture through the adoption of Sukiya style interiors, and relaxing rooms in the annex with panorama baths and ocean views. Simply choose the room of your choice.
Information about non-smoking floors In order to provide a comfortable stay for both smokers and non-smokers, we have designated as non-smoking rooms a number of 3F & 6F panorama bath guest rooms in the annex, and 3F mountain side guest rooms (accessed by stairs) in the main building.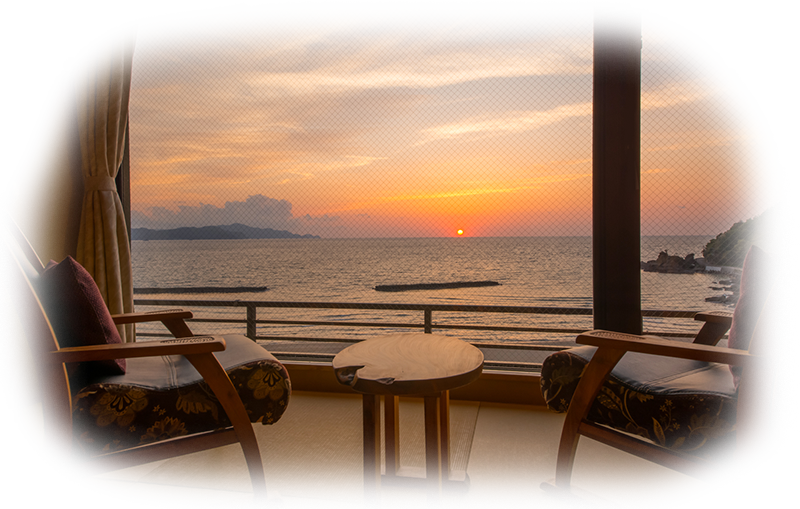 Open-air bath

Yuhigaura natural hot spring has slightly high viscosity and beautifying effects.
A spacious open-air bath where the ocean breeze feels good on your warm body.
Indoor bath

The bright and refreshing large bath is like one large conservatory.
Body and mind are soothed by the openness like that of a semi open-air bath, and with the gentle touch of granite.

A refined folk-style lounge where the tatami texture is comforting to the touch after a good soak in the bath. The perfect relaxing space where you can unwind in any way you want, having stretched out your arms and legs in the hot spring and loosened up your body and mind. Various fun events are also held from time to time!